Dovecot
This is the new Dovecot panel. It allows you to choose which Dovecot services, including their SSL variants, to turn on. It also allows you to set which port numbers are to be used for each service. If left blank, the default ports will be used.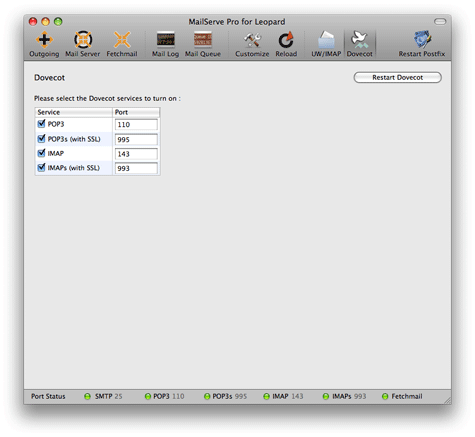 For your convenience, if you start Dovecot while UW/IMAP is on, MailServe will turn off UW/IMAP automatically before turning on Dovecot.
UW/IMAP
This also works the other way round. If Dovecot is running and you Start UW/IMAP, MailServe will close down Dovecot first before starting UW/IMAP.
There is one exception and this is to help users run both Dovecot and UW/IMAP at the same time in order to transfer mailboxes from UW/IMAP to Dovecot. If you set Dovecot to use ports other than the default, you can have Dovecot running and still have the ability to force-start UW/IMAP, which will use the default ports.
You do this by holding down the Shift-Key when you Start UW/IMAP while Dovecot is running. But you must have Dovecot running on the non-default ports. You can always set Dovecot back to the default ports after you have transferred over all you mailboxes to Dovecot and don't need UW/IMAP anymore, in which case you should Stop UW/IMAP, set Dovecot back to the default ports and Restart Dovecot.
Note: If you're using Mail.app, you can connect to the same server on two different IMAP ports by accessing one connection via its domain name (for, say, UW/IMAP), and then creating another account (for Dovecot) and accessing the server via its IP address (this time connecting to the custom port you set for Dovecot). When both accounts are active in Mail.app, you can drag the folders from UW/IMAP to Dovecot.
The UW/IMAP buttons in MailServe for Leopard have been consolidated into one UW/IMAP panel in MailServe Pro, as shown below :
Why is Dovecot Good?
Roland Sambain says, "I have been really impressed with the performance improvements of dovecot over uw impad. I always have known dovecot was good but this is the first direct side by side comparison I have ever done with uw impad and dovecot. And it really is chalk and cheese. Your build of dovecot has been flawless and so far I have pushed about 5000 emails through it... all on an old PPC Mac Mini."
Christian Noack says, "Today I installed your Beta of MailServe with Dovecot. Installing and configuring was very easy. It looks like it works perfectly. I installed a test server on a different machine than my production MailServe. I'm going to use it for some days to see if it's stable. My first impression is, that it is much faster than uwimap."
Another Benefit - Multiple Levels of IMAP Sub-folders
Dovecot also allows Mail.app to work with multiple levels of IMAP sub-folders, as shown below, and that's a more powerful way of working with your mail storage: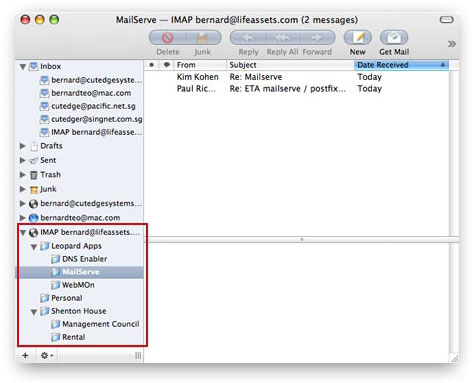 Tech Notes
Dovecot's IMAP folders on the server are stored in each user's ~/Mail folder. The Inbox is also stored in the ~/Mail folder.
UW/IMAP's folders are in each user's ~/Library/Mail/IMAP folder. And its Inbox is in /var/mail.
Release Notes
April 27th 2008. Version 4.0 of MailServe Pro for Leopard was released as a Universal Binary for Mac OS X Leopard.
October 27th 2008. Version 4.0.1. This solves a problem with the Fetchmail Log getting too big with time. In this version, Fetchmail logs its activity in the System Log, which does get archived and rotated. You can still view the Fetchmail-related activity in the System Log using MailServe Pro's Log Panel. From this point on, /var/log/fetchmail.log is not used and can be deleted to reclaim disk space.